Bitrix24 - contact center
contact center 24
Bitrix24 brings all your customer communication channels into a single dashboard called the Contact Center. Integrated with CRM, it lets you easily track all your customer interactions and collect actionable marketing data.

Contact center 
Instead of having to switch between your business profiles on Facebook, Instagram, WhatsApp, Viber, or other platforms, you get a single hub where you can easily monitor customer activity, reply to messages and comments, analyze data and collect stats.

Bitrix24.CRM + Instagram
This official integration allows you provide a native shopping experience to your customers while you can manage all the interactions (including payments) directly inside Bitrix24. 
Bitrix24 + Facebook
Connect your Facebook profile to our Contact Center and reply to messages from your clients directly in Bitrix24 Messenger. 
Bitrix24 + WhatsApp
Give your clients more options to connect with your business by enabling the WhatsApp widget on your website.

And Much More!
Instagram, Viber, Whatsapp, Bitrix24.Network, Facebook lead ads integration, Messenger and FB Posts, and more.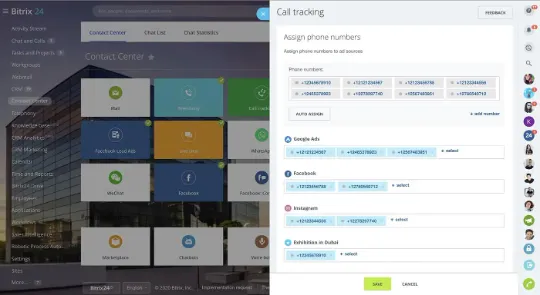 Bitrix24.CRM + Instagram = More Sales 
If you're using Instagram to sell your products/services online, this integration will take your sales to a whole new level.
Official integration
Connect your Instagram profile with just a few clicks and start scaling your business across Instagram like you never could before. 
Smooth shopping experience for your customers
Your customers can shop your products, make orders, and pay for them without leaving the app - all inside Instagram. 
Smooth sales experience for you
Manage the whole sales process inside the Bitrix24 CRM: reply to DMs, share product images, and send payment links.
Live chat for your website 
A live chat widget that can be placed on your website to provide instant support and customer service to your visitors. All the dialogs are saved in your CRM and, if it's a returning customer, the system will recognize them.


Rules, routing, and conversation transfers
Use the default settings or create a custom set of rules to manage, route, and distribute customer chats among your team members.  
Ratings by customers and supervisors
Every conversation can be rated by a customer and/or your team supervisor. The data is shown in the Contact Center. 
Canned replies
Create a set of canned replies to be used to keep customers on hold when your customer support team is not available.

And Much More!
Advanced reports, Business hours, Greetings, Callback option, Wait and diplay rules, and more.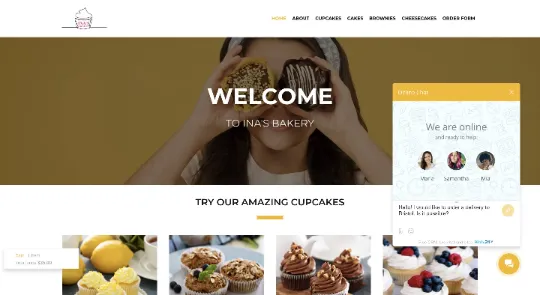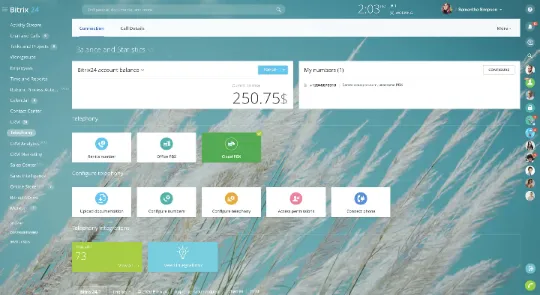 Telephony
Bitrix24 Telephony allows you to rent local phone numbers, create internal phone number extensions for your employees, set up call queuing and forwarding, and more.

Enhanced VoIP telephony solution
Bitrix24 telephony features call tracking, routing, forwarding, screening, transcription, recording, and so much more. 
Integration with Bitrix24 CRM
Calls can be recorded and added to deals in CRM. Incoming calls are forwarded to a sales rep responsible for a particular lead. 
Advanced telemarketing
You can run an automatic dialer, install a callback widget on your website, send callback requests, use voice broadcasts and SMS.

And Much More!
Make/receive calls 24/7, No additional equipment or software required, Cheaper than Skype or Zoom, Complete VBMA suite, IVRs, SIP connection capability, Possible integration with softphones, and more.

Social media + messengers 
Connect all your business profiles on social media and messengers to the Contact Center to manage your customer communication channels easier and more efficiently.

Improve customer service
Connect your Facebook, Instagram, WhatsApp, and other accounts to provide faster and better customer support. 
Manage your social media profiles from Bitrix24
All your customer interactions done, stored, and analyzed via a single dashboard. It's more convenient than a convenience store. 
Analytics and stats
Measure activity by channel, by day/time, average response time, customer satisfaction, and peak load for your customer support specialists.

And Much More!
Instagram business integration, Apple business chat integration, FB lead ads integration, Web forms, Customer engagement tools, possibility to integrate custom chat channel, and more.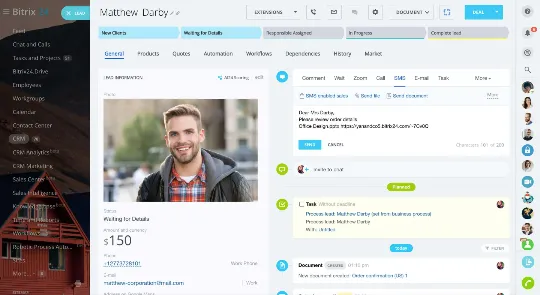 Email, SMS, and voice calls 
The tried-and-true customer communication channels that are still highly popular are also included in your Bitrix24 Omnichannel Contact Center.

Classic helpdesk
Connect your mailboxes to Bitrix24 Contact Center in one click to receive and manage all your emails in one place. 
SMS
Run SMS campaigns by easily sending promotional text messages to contacts from your customer base. 
Voice calls
If you have office/cloud PBX or SIP-trunk, you can rent a SIP connector to make free phone calls and pay just for the outbound calls at your current rates.

And Much More!
SIP connector for 3rd part integrations, REST API, Integration with Bitrix24 tasks, Integration with Bitrix24 CRM, Automatic dialers, and more.

© POLUS 2023 All rights reserved.