Bitrix24 - Tasks and Projects
Tasks & projects 24
Set tasks, manage deadlines, collect reports, track KPIs, and run projects from wherever you are - at home, in the office, or on the go.
Tasks & projects 
Set tasks, receive work reports, and manage projects online with the ultimate "get things done" tool from Bitrix24.

Workload management
Monitor the project activity, receive work reports, and distribute workload more evenly. 
Task templates & automation
Save time on recurring tasks by automating them (e.g., "daily SEO report"). 
Visual project management
Printable Gantt charts, customizable Kanban boards, and plenty of other visual representations for your projects.

And Much More!
Task dependencies, Project workgroups, Time trackers, External users, KPI and task efficiency reports, and more.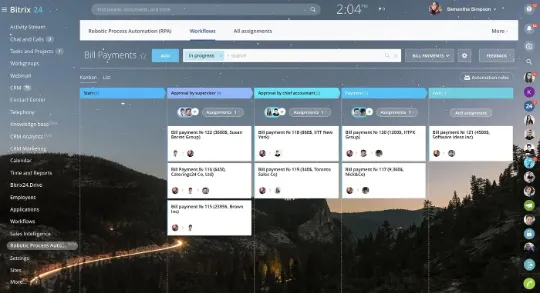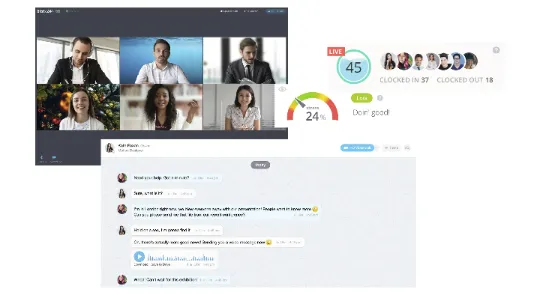 Get your team together 
Starting a project is super-easy with online project management tools in Bitrix24. Create a workgroup, add team members, set their roles, and get down to assigning tasks.

Single online platform for team collaboration
With 35+ tools onboard, Bitrix24 project management software has all you need for productive team collaboration. 
Online time clock
Your employees can start/stop/pause their working day while you can track their work time. 
Ideal for remote teams
Chats, videoconferencing, and other communication tools make it easy for remote teams to collaborate in the Bitrix24 open-source project management software.

And Much More!
Absence charts, Virtual presence indicator, Shift schedule, Task time tracking, Extranet access for external user activities/involvements, and more.

Visualize your projects 
All of your project's tasks and stages can be easily visualized in the form of a Gantt chart, Kanban board, calendar, or planner - the choice is yours.

Project Gantt chart
Using the Gantt chart to view tasks and subtasks gives you a full picture of the project progress and helps to identify the delays. 
Project Kanban board
True to the Agile project management approach, Kanban stages are fully customizable and can be set by each user individually. 
Task dependencies
Bitrix24 supports all four task dependencies - FS, FF, SS, and SF. To set a dependency, simply drag an arrow from one task to another.

And Much More!
Project planning software, Custom project stages, Project calendar, Planner modes, Deadline modes, and more.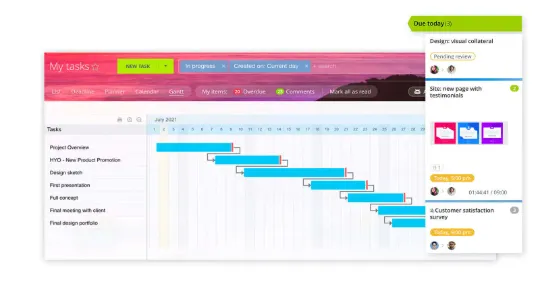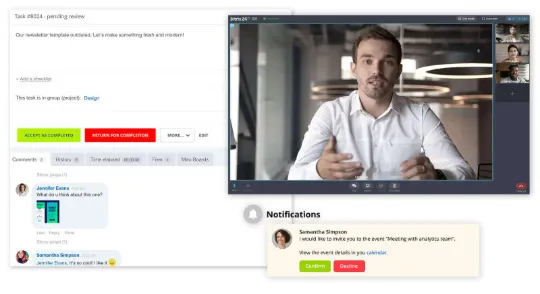 Discuss project-related issues online 
Use a wide variety of project management tools for quick and efficient communications: chats, comments, video calls, and video conferences.

Discussions and comments

Leave comments, attach files, share links, give likes, and respond to other people's comments - all inside a particular task.
Project chat
You can have a separate chat for every project where you can quickly discuss project-related issues and share files. 
Task permission settings

Set custom permissions for editing, delegating, creating, and deleting tasks - on both the individual user and whole department levels.
And Much More!
Project notifications, HD video conferencing, Approval workflows, Project access rights, Announcement/polls/surveys, and more.

Track project progress in real-time 
Get notified of any project-related activity, respond to new comments on the go, and see how your project is coming along.Use a wide variety of project management tools for quick and efficient communications: chats, comments, video calls, and video conferences.

Task reminders and notifications
Stay on top of your tasks and never miss an important update. 
Autofocus mode
Our system automatically filters out the most relevant tasks based on the recent activity inside them. 
Quick search & task filters
No matter how many ongoing tasks and projects you have, you will always find the one you're looking for.

And Much More!
Sort tasks by importance, Sort projects by recent activity, Automated task status request, Supervisor view, Mobile tasks, and more.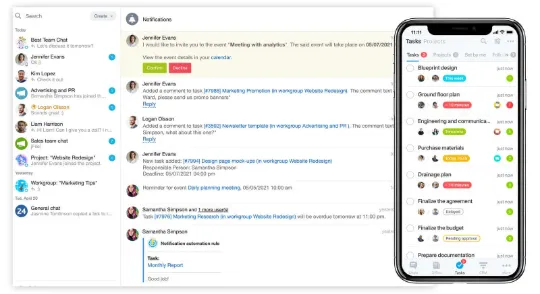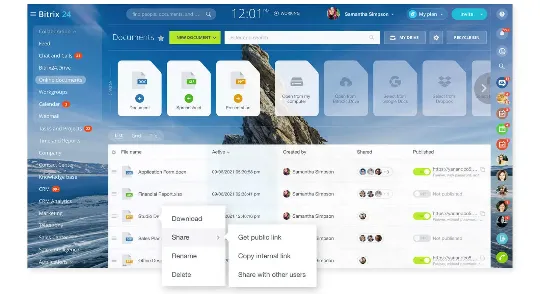 Store all the project files in one place 
Use the Bitrix24.Drive online cloud storage to create, edit, store, and share all your project-related documentation and files.

24/7 access from any device
Work with your project files from any device and operating system - mobile or desktop. 
Secure storage for your project data
Manage access permissions to make sure no one except your team members can access your files.
Real-time collaborative editing
Create, co-edit, and share text documents, spreadsheets, and presentations in real-time.

And Much More!
MIgrate files from Dropbox, Office 365 integration, Google Docs integrations, Real-time file status updates, Configurable access permissions, and more.

Manage Scrum teams and projects 
Bitrix24 features a full set of professional Scrum tools (backlog, sprints, story points, etc.). Combined with our chats, online meetings, and comments, this makes for a turnkey project management solution for any team!

Classic scrum
Full-featured scrum with teams, sprints, backlog, Scrumban, epics, DODs, story points, scrum of scrums, scrum velocity, and more. 
Integrated communications
Finally, a scrum tool that's already integrated with online meetings, chats, calls, calendars, and time tracking. Everything you need to communicate and collaborate is already here. 
Non-tech friendly
Used by IT, banks, manufacturers, non-profits, healthcare organizations, government agencies, and 28 other industries and verticals.

And Much More!
Backlogs, Sprints, Epics, Definition of Done, Chats and meetings, and more.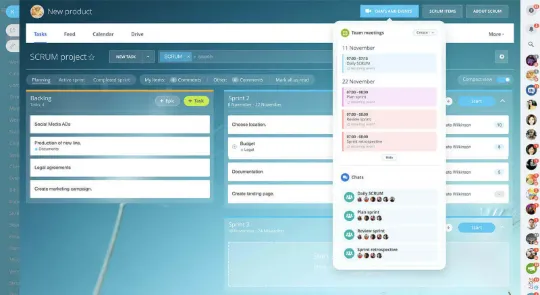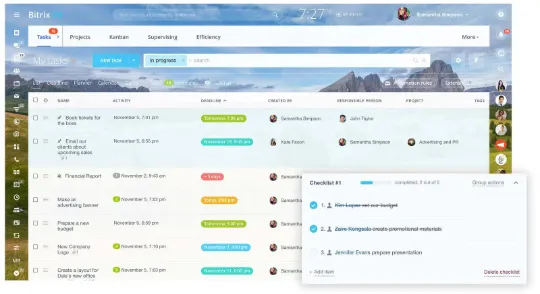 Set tasks & manage deadlines 
You can set tasks for both individuals and groups. Once a task has been created, the person you assigned it to will be immediately notified and proceed to work with no delay.

Sub-tasks & checklists
A nice and easy way to break down a complex task into a set of smaller tasks that are easier to complete. 
Task automation
Save yourself plenty of time and hassle by automatically creating repetitive tasks - one of the essential free project management tools. 
Task & project templates
Working with the same tasks and projects again and again? Save them as templates!
And Much More!
Manual time entry, Task planner, Auto-task time tracking, Observers and participants in tasks, Delegating, and more.

MANAGE PROJECT RESOURCES
Track the time spent on tasks to distribute the workload more evenly, get task reports and track KPIs to monitor your team performance.

Task reports
Receive regular task reports from your team members (daily, weekly, monthly, etc.).

Billable hours
Use our integration with the Billable Hours app to track working hours and create invoices.

Task efficiency & KPIs
Every completed task or submitted task report can be either confirmed or declined by the supervisor.

And Much More!
Task counters, Rating by supervisor, Time spent tracking, Deadline control, Mindmap integration, and more.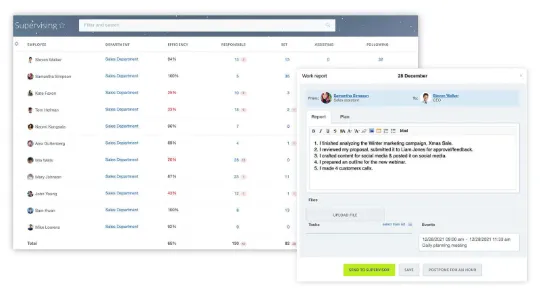 © POLUS 2023 All rights reserved.